Bulmint Recruitment is a company, specialized in the human resources selection and administration. We started our business operations as a recruitment agency in 2019. Since then, we have quickly entered the labor market and managed to establish ourselves as a reliable partner in the human resources recruitment and management processes, thanks to the vast experience of the team and company management. In a short time we have established sustainable contacts, both with organizations, assisting in the selection of suitable employees, and with job seekers, whom we helped to have a successful start on a new job.
We partner with many employers in various industries such as manufacturing, commerce, finance, IT, marketing and human resources, BPO and outsourcing, hotels and restaurants, who just like us, believe that human resources are one of the main values in the organization and are a factor for sustainable business development and growth.
We invest our time, knowledge, and experience in creating opportunities for each applicant to find the dream job and each business to choose the right team of people to grow with.
Mission
Our mission is to use the tools and scope of human resources to help people achieve their goals at every stage of their professional development, and organizations to grow and develop - by creating opportunities and transforming lives.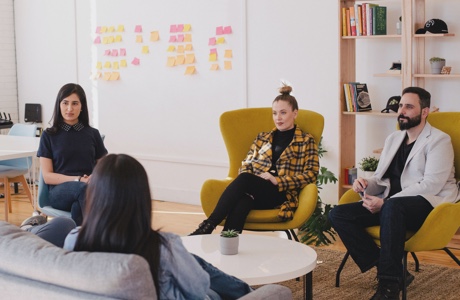 Why choose Bulmint Recruitment?
We consult all our clients about the labor market, as well as the time and resources that an organization will have to invest to retain its employees.
We assist organisations in identifying the right employee for them, thanks to our specific knowledge of the market and business processes.
We manage to turn the individual needs and requirements of our clients into a competitive advantage in the recruitment of staff.
We establish long-term relationships with candidates and assist them in finding a job at every stage of their career development.
We strive to make the process of looking for jobs and staff easy and to remain a trusted partner for years to come.
Find out more
We are close to you, in over 10 cities.
Want to find the right job? We can connect you with companies close to you or such that offer remote jobs.
Find out more